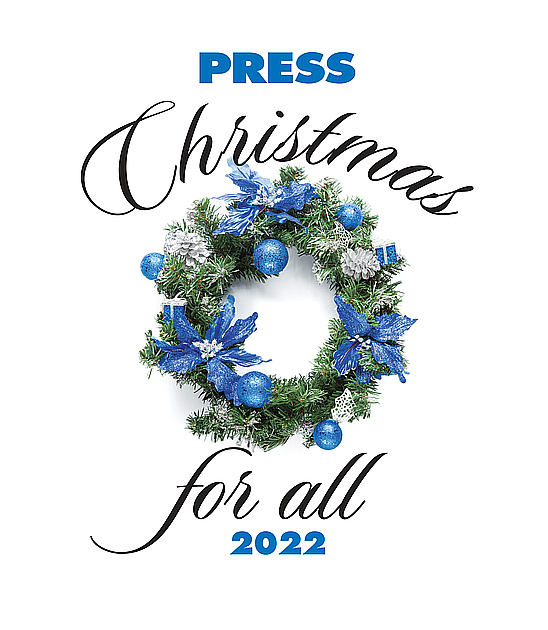 As part of the annual Press Christmas for All Campaign, we share with readers the stories of those applying for help. This is one of them.
Chronic illnesses have plagued "Cindy" and her husband "Harold" for quite some time.
"My health is getting worse as I age," Cindy shared with The Press. "My chronic health needs seem to be getting more and more significant, which renders me less able to help at home."
Cindy, who struggled with weight gain off and on throughout her life, was successful in losing 130 pounds over the course of two years. Although losing the weight was a positive, it came with its own set of problems. She also had to undergo back surgery earlier this year.
"The cold kind of hurts my back now that it has metal in it," she said.
Harold, who works as a caregiver for Cindy, contracted COVID-19 and couldn't work while he recovered. His other client died while he was gone, so his income was abruptly cut in half, and Cindy's disability benefits don't cover much.
"I only receive a small disability check," she said.
New cookware was on their wishlist, as the pots and pans in their cupboards were old and falling apart. A gift from Press Christmas for All and Charity Reimagined, with help from referring partner Heritage Health, has made healthy living and eating a little easier for this senior couple.
"It was a big help because the stuff I had was crappy and old and it would burn everything," Cindy said. "It was a total blessing to get new pots and pans and things like that."
Each year, Press readers donate generously to Press Christmas for All. Every penny raised is distributed to Kootenai County residents. All overhead costs are covered by The Hagadone Corp.
The gift recipients are our neighbors who are struggling, including the elderly, people with disabilities, veterans, the homeless and those with mental illnesses. Many who seek assistance from Christmas for All are working, but living in poverty.
Beneficiaries of Press Christmas for All keep their dignity while the community provides a hand up to help get them back on their feet.
Press Christmas for All is managed by The Hagadone Corp., with assistance from CharityReimagined.Org. It is a legally recognized 501(c)(3) nonprofit, run entirely by volunteers.
Here are four ways to donate:
• Mail a check to Press Christmas for All, 215 N. Second St., Coeur d'Alene, ID 83814.
• Call The Press and make a secure credit card donation over the phone: 208-664-8176
• Visit cdapress.com. Click on Christmas for All 2022 and make a secure, online donation.
• Drop off your check at The Press weekdays between 8 a.m. and 5 p.m.: 215 N. Second St. in downtown Coeur d'Alene.
RECENT DONORS
H Yuditsky; Barbara Hudson; Clyde Ylitalo; Bill & Carol Delyea; Loyd and Fern Seibert; Anonymous; Donna Walker; David and Elsie Casteel; John and Patti Dixon; Jacqueline and Kevin Schmidt; Leslie and Nancy Biby; Barbara Jaffray; Steve & Janice Burris; Northwest Treasurer Hunters Club; Bob and Dorothy Yohe; Jacqueline and Lanny Rickard Sr; Mary Landers; Twila Fae Little; David & Valerie Hodge; Ken Koep; Dianne and Richard Dickinson; Dennis & Mary Casey; John and Paula Neils; C. Barry Zimmerman
$500 OR MORE
Richard and Marilyn Croy; Ward and Martha Stewart and Jill Tesulov; P J and Robert Davis; Scott & Holly McNee; Leo & Helen Calhoun; Robert & Mary Kay Yuditsky; Donald and Janice Brennan; Marston and Julie Westbrook; Koerner's Furniture; Charles Bean and Associates, PLLC; Anonymous; Ron and Heidi Gifford